Welcome to
Durham Trailblazers Pathfinder Club
P
athfinders is a Youth Ministry which is Christ and church centered. It provides additional spiritual and recreational activities, which foster the growth of our young people in a safe and nurturing environment. Durham Trailblazers provides superior life skills with regular camping trips and other engaging activities which enrich the curriculum. When one's personal relationship with Christ is strong, they are holistically able to thrive and flourish.   
There are six levels: Friend, Companion, Explorer, Ranger, Voyager, and Guide. All levels of Pathfinders require daily devotion and biblical readings, with critical thinking questions that deepen the relationship with God. The club is also proactive with community service.  
Durham Trailblazers Pathfinder Club remained fully operational throughout the pandemic and periods of lock down. We were and are able to provide appropriate and engaging curriculum if it's necessary to pivot from in person meetings.   
We have and will continue to facilitate opportunities to laugh, learn, play, talk, and share in hands on activities that will grow a redemptive relationship with Christ!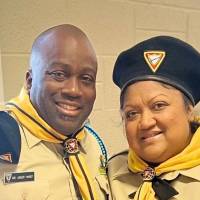 Asher & Dawn Handy
Ministry Leaders
PATHFINDERS AIM
The Advent Message to all the world in my generation